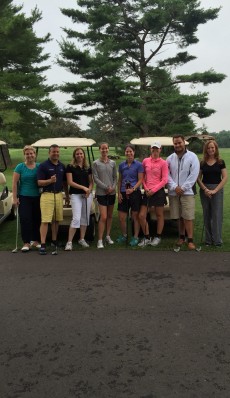 For me, the arrival of summer provides so many opportunities for gathering with our family, friends and colleagues. Graduations, Father's Day, pool parties, beach bumming, Independence Day to name a few. For some of us, our work schedules allow for a little more flexibility and ease. It is a great time of year to reconnect with others.
This past week we held our 1st Annual Pinnacle Golf Classic. We selected a 9 hole/3-par course that we thought would be manageable for the light golfer and not too insulting for the real golfer. I went into the event with some trepidation and unsure how the event would turn out. Truth be told, I wondered if my co-workers who haven't used their golf clubs in a few years would be comfortable on the course. Or worse yet, if they would drag the game for the more serious-minded golfer – the ones who came with golf shoes!
We agreed on playing 'best ball' which was perfect. If you haven't played, this way of playing allows the team to choose the teammates shot that is best of all the individual strokes. Instead of working as an individual, best ball allows you to work as team by averaging shots and having one score as a team.
Like many things, there are so many surprises to be enjoyed. The camaraderie we experienced goes without saying. Each team member wanted to help its team succeed by getting a few great shots. So true effort was applied by all. One person's strength helped to make up for another's limitation – i.e. putting vs. driving the ball. We all scored the same on each hole so we couldn't focus on individual success but rather team success. Yet, each stroke mattered because each individual always had the chance to excel for the team. We rallied for one another and we appreciated the support and encouragement we were given.
Although some team members enjoyed the ride in the golf cart, while others basked in the competitiveness of the sport everyone left with a feeling of accomplishment. On the course we succeeded by doing the best we could, off the course we had solidified our bond that will no doubt help us as teammates in our day-to-day work. Regardless of the final score the real win for all of us was a renewed sense of the value of teamwork.