Here's Your File:
Preparing for Executive-Level Presentations: A Self-Rater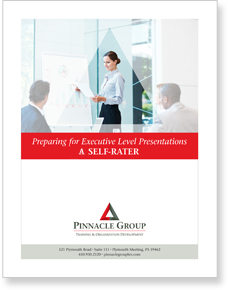 Tools are tremendous supplements to your development. When you need additional support to increase proficiency and expand knowledge, skills and abilities, consider training and/or coaching services.
Pinnacle Group's highly experienced facilitators and coaches can help close the gap between where you are and where you want to be. Face-to-face or web-based learning experiences not only bring important concepts and theories to your development process but also will identify strategies for improving your workplace. Contact us using the form to the right, to learn about our programs and services that will make you and your business more successful.